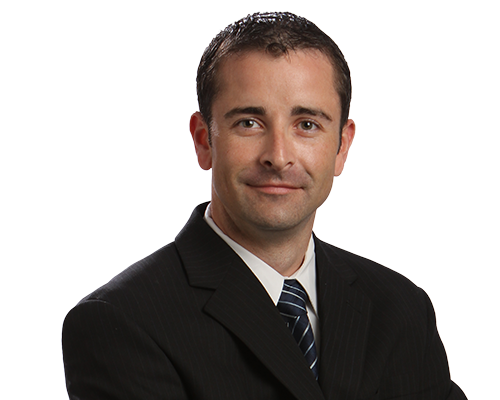 Rob McRae
Registered Patent Attorney
Rob McRae is a registered patent attorney admitted to practice before the United States Patent and Trademark Office, the Supreme Court of the State of Texas, United States District Courts for the Northern, Western and Southern Districts of Texas and the United States District Court for the District of Colorado.
Rob focuses his practice on intellectual property law, in both litigation and intellectual property prosecution. Rob drafts and prosecutes patent applications in multiple arts and disciplines, including mechanical and electrical devices, software, and business methods. However, a majority of Rob's patent prosecution focuses on Biological Sciences, including biomedical devices, DNA code sequencing/amino acid sequencing inventions, regenerative medicine, biological substances and analogs for systemic therapy, pharmaceutical compositions, and related biological, biomechanical and biochemical inventions.
Rob drafts and prosecutes PCT patent applications in foreign countries all over the world, in addition to domestic patent applications. Rob manages and maintains his clients' domestic and foreign patent portfolios, and advises his clients on related issues. Rob also advises his clients regarding patentability and infringement issues, including providing Freedom to Operate opinions. In addition to Rob's patent prosecution experience, Rob is patent litigator, enforcing his client's patents against infringers as well as defending against infringement claims.
Rob also drafts and negotiates intellectual property licensing agreements for licensors and licensees, and is experienced in trademark registration and enforcement, copyright registration and enforcement, and defense of trademark and copyright infringement claims. He also frequently advises his clients regarding trade secret maintenance, employee management regarding trade secrets, and enforcement of trade secrets. Rob is experienced in trade secret litigation from both the plaintiff's and defendant's perspective. Rob also represents and advises his clients regarding internet issues, including domain name issues, ICANN proceedings, and related domain disputes.
Prior to joining Gunn, Lee & Cave, Rob had a general practice which included advising clients in oil and gas law, family law, and business law, in addition to intellectual property issues. Rob attended St. Mary's University School of Law, where he practiced as a patent agent while studying law. Prior to obtaining his law degree from St. Mary's, Rob attended Abilene Christian University, where he received his Bachelor of Science degree in Biology and a Minor in Chemistry. Rob was a Biology Lab Instructor during his college days at ACU.
Rob is an active speaker on intellectual property issues, and is also active in professional and community groups such as the San Antonio Bar Association, the San Antonio Young Lawyer's Association, the Federal Bar Association, the Intellectual Property Section of the State Bar of Texas, the San Antonio Foundation for Biomedical Research Founder's Council, and the Witte Society.
Practice Licenses
United States Patent and Trademark Office, 2003–present
State of Texas, 2004–present
Courts Admitted
Supreme Court of Texas
United States District Court, Western District of Texas
United States District Court, Southern District of Texas
United States District Court, Northern District of Texas
United States District Court, District of Colorado
Education
Doctorate of Jurisprudence, St. Mary's University School of Law
Bachelor of Science in Biology, Abilene Christian University
Work Experience
Gunn, Lee & Cave, P.C., 2005–present
Intellectual Property Law Firm
Patent Attorney, San Antonio, Texas
Professional Activities and Associations
Federal Bar Association, San Antonio Chapter
San Antonio Bar Association
San Antonio Young Lawyers Association
State Bar of Texas, Intellectual Property Section
Texas Biomedical Research Institute Founder's Council
Personal Interests
In the fall and winter, Rob is an avid outdoorsman, and particularly enjoys his time out in the country hunting with his family and friends. He also enjoys snow skiing and other winter sports. When it is time to thaw out in the spring and summer, Rob enjoys playing golf. Throughout the year, Rob is an avid runner, and enjoys the challenge of training for and running marathons. Perhaps his wife, a tri-athlete, will inspire him to do a triathlon some day in the near future? Rob is also active in his church and enjoys spending time with his wife and young daughter. He particularly enjoys his Saturday morning "family runs."